Background
Edit
That song's from a moment when I'd had a pretty rough winter and then it was a spring morning and I walked outside and the birds were singing: Spring is here! I wrote the song and recorded in half a day. It just clicked - you know: you're being too stubborn, don't be so silly, there is love everywhere. The feeling, the emotion of the song was like completely melting and loving everything and feeling like everything loved you, after a long time of not having that. The song, in essence, is actually about believing in love. Love isn't just about two persons, it's everywhere around you. Even if you're not getting love from Person A, it doesn't mean there's not love there. Obviously, it's taking the piss too - it's the most sugary song ever. "All Is Full of Love" was written after the rest of Homogenic, which I'd wanted to be an aggressive, macho album. In Icelandic mythology, you have this saga where the Gods get aggressive and the world explodes and everything dies and then the sun comes up and everything starts all over again. It's the last track on Homogenic after "Pluto" which stands for death. "All Is Full of Love" is like the birds coming out after a thunderstorm. In a way, in my head, "All Is Full of Love" is the first song on
Vespertine
.
—Björk, interview by David Hemingway
[1]
You'll be given love
You'll be taken care of
You'll be given love
You have to trust it

Maybe not from the sources
You have poured yours
Into

Maybe not
From the directions
You Are
Staring at


Twist your head around
It's all around you
All is full of love
All around you

All is full of love
You just ain't receiving
All is full of love
Your phone is off the hook
All is full of love
Your doors are all shut
All is full of love
Music video
Edit
04:09

Björk - All Is Full Of Love

| | |
| --- | --- |
| Premiere date | 1999 |
| Director(s) | Chris Cunningham |
| Producer(s) | Cindy Burnay, James Smith |
| Production company | Black Dog Films |
| Director of photography | John Lynch |
Background, concept, and development
Edit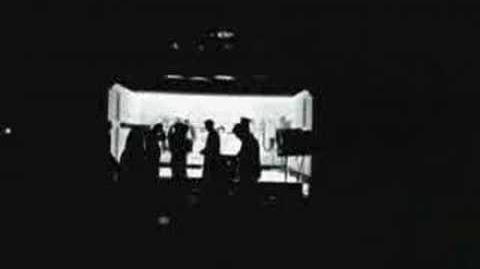 "When I first heard the track I wrote down the words; "sexual", "milk", "white porcelain", "surgery", recalls Chris Cunningham.
His immediate association with sex was vindicated when Björk arrived at his London office with a book of Chinese Kama Sutra prints as her only guiding reference.
"I knew them and liked them, but I couldn't figure out how to keep the explicit sexuality and still make it broadcastable... It's a combination of several fetishes: industrial robotics, female anatomy, and flourescent light in that order. It was perfect, I got to play around with the two things I was into as a teenager: robots and porn."
—Dazed & Confused #55, June 1999
[2]
Concept drawings by Chris Cunningham

[1]
Against black we hear the faint sound of electricity gently surging. All around us, banks of fluorescent lights, behind Plexiglas flicker to life at random, illuminating an elegant, pristine white environment. It has a Japanese feel to it, a simplicity in its design. As we track forwards we are dwarfed on either side by two enormous medical/industrial robots. In unison they sweep around towards a workspace littered with eggshell-white plastic parts. As we get closer the parts become more visible and reveal an organic nature, their shapes resemble humanoid forms. From above we see clearly a female form in a fetal position completely abstracted and disassembled. Although it is artificial it is beautiful and elegant. The machines set to work in extreme slow motion. Their arms gracefully engaging with the incomplete human form, removing and adding parts to the partially hollow plastic shell and its matt black complex inner workings. Although only the front portion is in place its features are clearly those of Björk's, albeit the smoothed panels of a Japanese motorbike. The eyes open as the robotic arms construct consciousness. Warm orange sparks fly against the cold blue white plastic. It feels like we are watching the last stages of an artificial intelligence's birth. As it starts to sing, the elegance of the song and the imagery is contrasted by the abstractions caused by this incomplete form. It never quite becomes whole. As the track unfolds so too does the imagery developing in stages. The figure, still incomplete is upright now. Its hand reaching up to touch its own face. We reveal more of the scene. Gently white fluid, like milk starts to wash over the forms and eventually engulfs it (this would be achieved by submerging the forms in a vat of milk and draining it off, filmed in reverse). When the form emerges from the vat we reveal that it is number two in a series. Still with Björk's features, the two ARTIFICIAL INTELLIGENCES begin to engage with one another. Locked together in a surreal embrace, parts intertwined and fused, we concentrate now on details, kissing, slow motion white fluid, fluorescent light. The imagery is slowly becoming more sexual but way too surreal and abstract to be offensive. We see the plastic bodies begin to unfold like strange flowers. The last sequence of shots as we pull back very wide reveal an indescribably abstract life form made from the two unfolded, artificial, humanoid forms. It's like Kama Sutra meets Industrial Robotics . The shots in this video will not be as difficult as you might imagine. The main performance aspect of the video would involve attaching blue panels to Björk's body and replacing these areas with model parts filmed against the same background. This will give the illusion of her being hollow, completely artificial. We would shoot everything as a lock off. As we approach the finale, the shots would possibly start to include a mixture of computer graphics and live action, used seamlessly to depict these robots unfolding. A lot of preparatory work would be needed and some compositing but the shot would be very simple. I am convinced that this would make an extroadinary surreal performance video. The imagery would be majestic and we could be sexually suggestive as we like and get away with it.
—Treatment by Chris Cunningham
[1]
Assembling sequence
Edit
The video begins with what the Institute for the Unstable Media has described as "a dark uterine environment wrought with cables and faintly pulsating with light."[3] The camera follows these cables to an ethereal, white room where a robot with Björk's features lies in a fetal position. As the room lightens up, two mechanical arms begin to assemble the robot, which opens its eyes and begins to sing the song. Pistons pumping white fluids, drilling and penetrative motions are seen.
Kissing sequence
Edit
Now sitting upright, the robot looks up to see another robotic Björk as the machines stop the assembly. It smiles and extends its hand to the sitting robot, joining in the song. The robots passionately kiss and embrace while the machines assemble their backs and light comes and goes. The images of the kissing robots are interposed with shots of white fluid washing over robotic parts and the mechanicals arms assembling them. The Institute for the Unstable Media described what follows: "as the music fades and the pulsating beat becomes more dominant, we are once again drawn in the womb-like dark space, making it clear to us that we sampled a glimpse of a black-boxed kingdom."[3]
Music video
Edit
Production
Production — Black Dog Films
Director — Chris Cunningham
Producer — Cindy Burnay
Production assistant — Holly Ross
First assistant director — Matthew Clark
Director of photography — John Lynch
Focus puller — Will Willis
Loader — James Needham
Grip — Gary Smith
Crane grips — Bob Freeman, Steve Morgan
Video playback — Caspar Gordon
Production designers — Chris Cunningham, Julian Caldow
Art director — Chris Oddy
Assistant art director — Roy Middleton
Robot design — Chris Cunningham
Robot builder — Paul Catling
Robot model assistants — James McKeown, Liam Williams
Special effects supervisor — Ben Halls
Special effects technicians — Richard Thomas, PJ
Sound — Sam Mendelssohn
Makeup — Deborah Lindsell
Gaffer — Tim O'Connell
Post-production
Telecine — Marcus Timpson at The Mill
Offline editor — Gary Knight at Final Cut
Flame/online — Pasi Johansson at Glassworks
3D — James at Glassworks
References
Edit
Ad blocker interference detected!
Wikia is a free-to-use site that makes money from advertising. We have a modified experience for viewers using ad blockers

Wikia is not accessible if you've made further modifications. Remove the custom ad blocker rule(s) and the page will load as expected.